There are two options to resign an LOE on AccoutnancyManager. See below for steps.
Option 1: Manual Resign
1. Go to Client > Client List and select client from the options.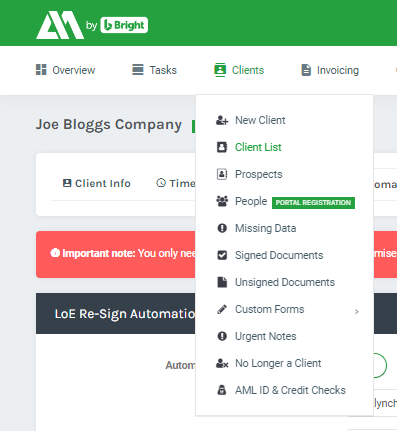 2. Expand the Registration section with the drodpown arrow on the right.

3. If a date has been entered in Letter of Engagement Signed, this will be used for the automated resign request. If no date has been entered then you will need to add a date or request that an LoE be signed via the portal.

4 .Request LOE re-sign button - To request an LoE resign manually click here. The Letter of Engagement Signed date will be removed, and an email will be generated asking your client to login to their portal or register for portal access in order to resign the LoE.
Option 2: Automatic Resign
1. Go to Settings > Automation Settings.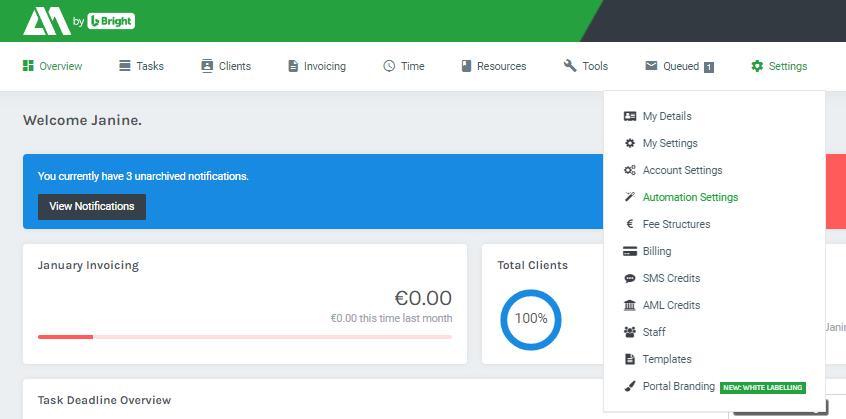 2. Under the LoE Re-sign section, toggle on the option for Automatically Request LoE Re-sign and enter a date for the frequency to send. If a year, put 365.

3. Save Settings to complete.
4. You can amend the frequency and turn off the option by going to the client file and selecting the Automation section. Once here, you can update frequency or turn off the Automatically Request LoE re-Sign as shown below.

Note: The Client Manager will receive a Notification about the upcoming resign request 7 days before it is due. Once the resign email is produced it will queue for 24 hours before being sent if your Queue is un-paused.