1. Go to Client > Client List.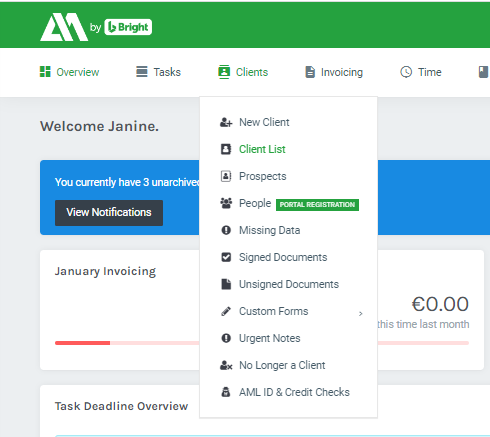 2. Select relevant client from the list.
3. Expand the Registration section using the dropdown arrow and ensure that the 'Letter of Engagement Signed Date' option is empty. This will ensure the client gets a prompt to sign a letter.

4. Select LOE tab at the top of the screen as shown below.

5. Check the LOE template to ensure it is correct. You can also use the Edit Template option in the bottom left to make any updates and then Save Letter of Engagement.

6. Click Request LOE Sign in the bottom right. If they are portal registered, they will be alerted to sign it when they next log in.
Note: If they are not portal registered, you can send them a Proposal or Registration Email. Go to Client > People and select the dropdown beside Not Registered on Portal. Once here you can email the relevant client to have them receive a registration link for the portal.